Understanding a recruiter's role and being able to communicate with them is essential when starting your trucking career. Knowing which questions to ask and how to make the most of your time on the phone will help you choose the right company for you.
Let's get into what a recruiter's job is and how they can help you. While we're at it, we'll also discuss some of the assumptions that are worth avoiding when talking to a recruiter. Let's get into it.
What a recruiter can do for you
If you ask the right questions, a recruiter will help you decide if you should work for the company they're representing and why.
If you prod them enough, they'll help you make your decision and tell you about the specific ins and outs of the job. This is an opportunity you shouldn't pass up.
Remember that a recruiter will try to make the job and company seem as good as possible to get the hire and make their commission. Never be in a rush to jump into a new job without getting the most out of it.
Here are some ideas of the questions to ask before agreeing to take the next step:
"What are your major routes?" – It's worth finding out where you'll be going and which regions you'll be traveling to. If you live in a remote area, it's also worth making sure the company has a terminal close to where you live.

"What equipment will I have?" – Ask what kind of truck you'll have, and whether or not there's slip-seating. Make sure you can live with what they promise.

"Do you provide detention pay?" – If possible, you should always choose a company that compensates you for delays and layovers.

"Do you offer other bonuses?" – Asking about sign-on bonuses (and how they're paid out specifically) and other bonuses is a good way to find out what additional pay you can expect throughout the year.

"Is there a pay guarantee?" – Making sure you get paid what you're promised is important. Even if there's no guaranteed minimum pay, you should make sure that you are paid on transparent terms that are fair and achievable. You don't want to end up in a "feast or famine" position, as some truck drivers do.
There's a lot more to be said here, and many more questions you could ask. Perhaps we'll save this subject for another post. Let's move on.
Recruiters are there to sell you on the job
Recruiters can make themselves useful and give you the information you need to make your next job choice, but they're not really there for that.
They're there to sell – to get you into the role you applied to as quickly and painlessly as possible.
Keep this in mind, as bigger companies and efficient recruiters are incredibly good at what they do. They have a process and they know how to get you on the path to the job you applied for as quickly as possible.
There's nothing wrong with this, and I'm not trying to make it sound bad or evil - it's perfectly normal and in fact essential for companies to do this to stay afloat and meet their recruitment quotas.
Many recruiters work on commission, so it's understandable that their incentive is tied to getting you in the role with as few questions as possible. Always keep this in mind and use this information to your advantage.
Speak with many recruiters to find the right job for you, there's no rush to be sold. They're in a rush to hire YOU, you shouldn't feel like you're in a rush to get hired by them.
What a recruiter can't do for you
The recruiter is only there to help you during your first few interactions. Once you've landed the job, the recruiter will become an irrelevant part of your routine.
You won't be able to call up a recruiter and keep them liable for their claims. Everything that happens after you're employed is taken care of by human resources or other departments ensuring your satisfaction.
Once you're hired and the recruiter's job is done, they won't be the ones to answer for your well-being at work.
It's therefore vital that you clear up questions regarding your work conditions with the recruiter first. Always insist that you get a contract outlining how you get paid and other significant job details so that you have leverage and protection in case something happens down the road.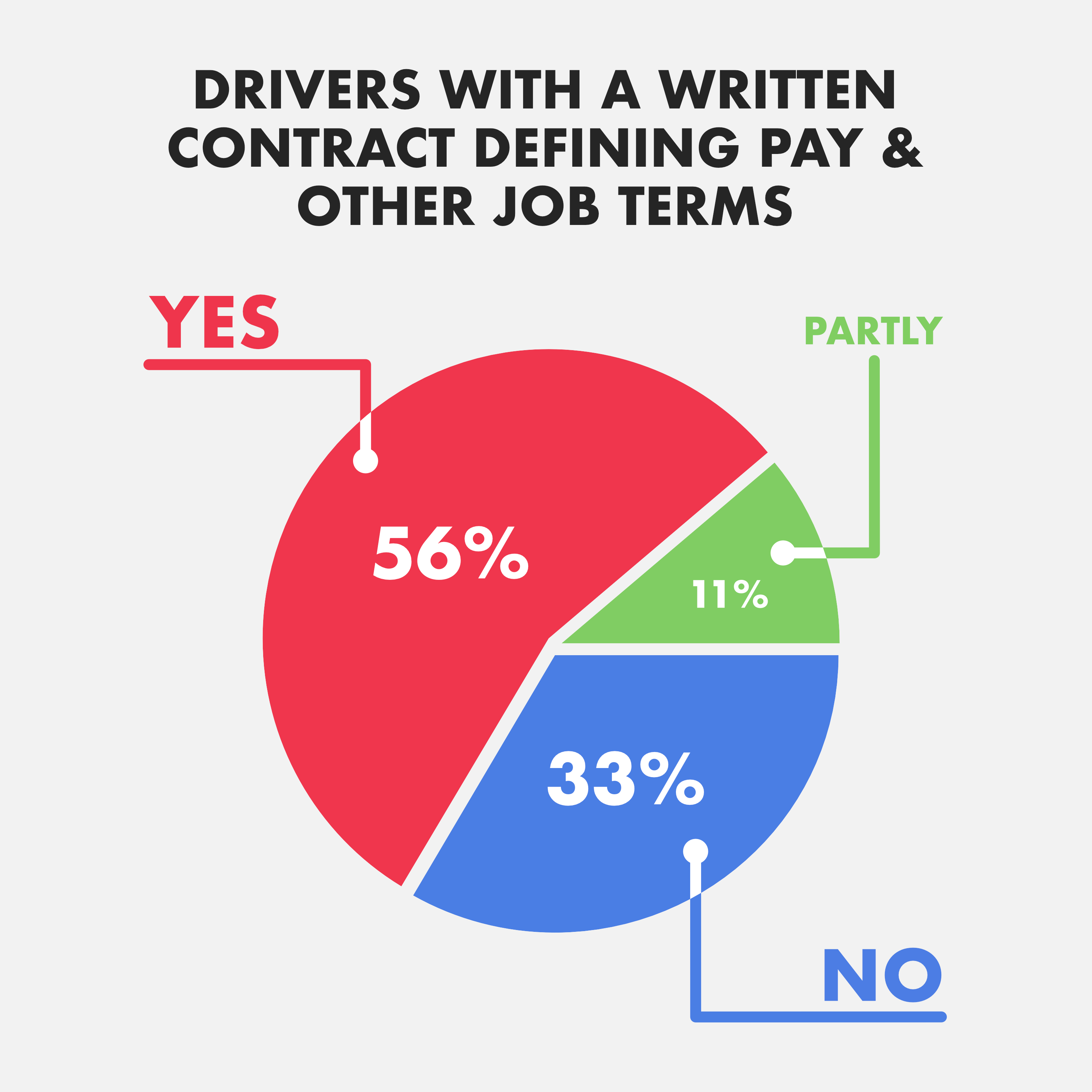 We recently surveyed 100 company drivers, and were surprised to find out that 33 of them had no written contracts at their current jobs.
The number of drivers without a written contract outlining their employment terms is troubling, if our recent survey is anything to go by. According to the answers we received, 1 in 3 drivers don't have any written contract at their current employment. You shouldn't settle for work without knowing how your company intends to pay you and what they expect from you. Keep this in mind when speaking with recruiters.
Don't judge a company by the recruiter
The recruiter you get assigned is entirely random, as far as you're concerned. They might be good at their job, they might be bad at their job. They might be tired, depressed, or having a bad day. Their lack of enthusiasm does not necessarily represent the company and its qualities.
It's never a guarantee that you'll be placed with someone that meets all the professional qualities you expect from a recruiter. Though it may seem easy to judge the entire company based on this one experience, it's better not to jump the gun and make an assumption.
You can't choose your recruiter, so make sure you don't give the importance of your initial experience more significance than it's worth. Look for other signs and do your research before deciding if you're making the right career decision or not.
Know what to look for
Don't make the assumption that your first conversation with a recruiter is an indicator of the quality of the company. This goes for good and bad experiences.
Remember that the recruiter is there to sell you on the job. Don't be swayed by big promises and remember to ask as many questions as possible.
Do your research and listen to the recruiter carefully. Trust your gut feeling and make sure to get as many of the promises in writing as possible.
Remember that you can use Lanefinder's filters to find jobs that match as many of your wants and needs as possible. Lanefinder gives you an overview of operating areas, equipment, truck governance, and more. This lets you make smart choices and apply to companies that are worth your time and energy. You don't want to apply to trucking jobs based on bombastic claims and loud promises, so don't waste your time. Get on the phone with recruiters at companies that have what you're looking for.